If you're looking for a super-easy way to make your own sheet music, you need look no further than FORTE.
FORTE 12 is the very latest edition of this user-friendly software. And it offers limitless scoring creativity as well as the capability to make your own sheet music.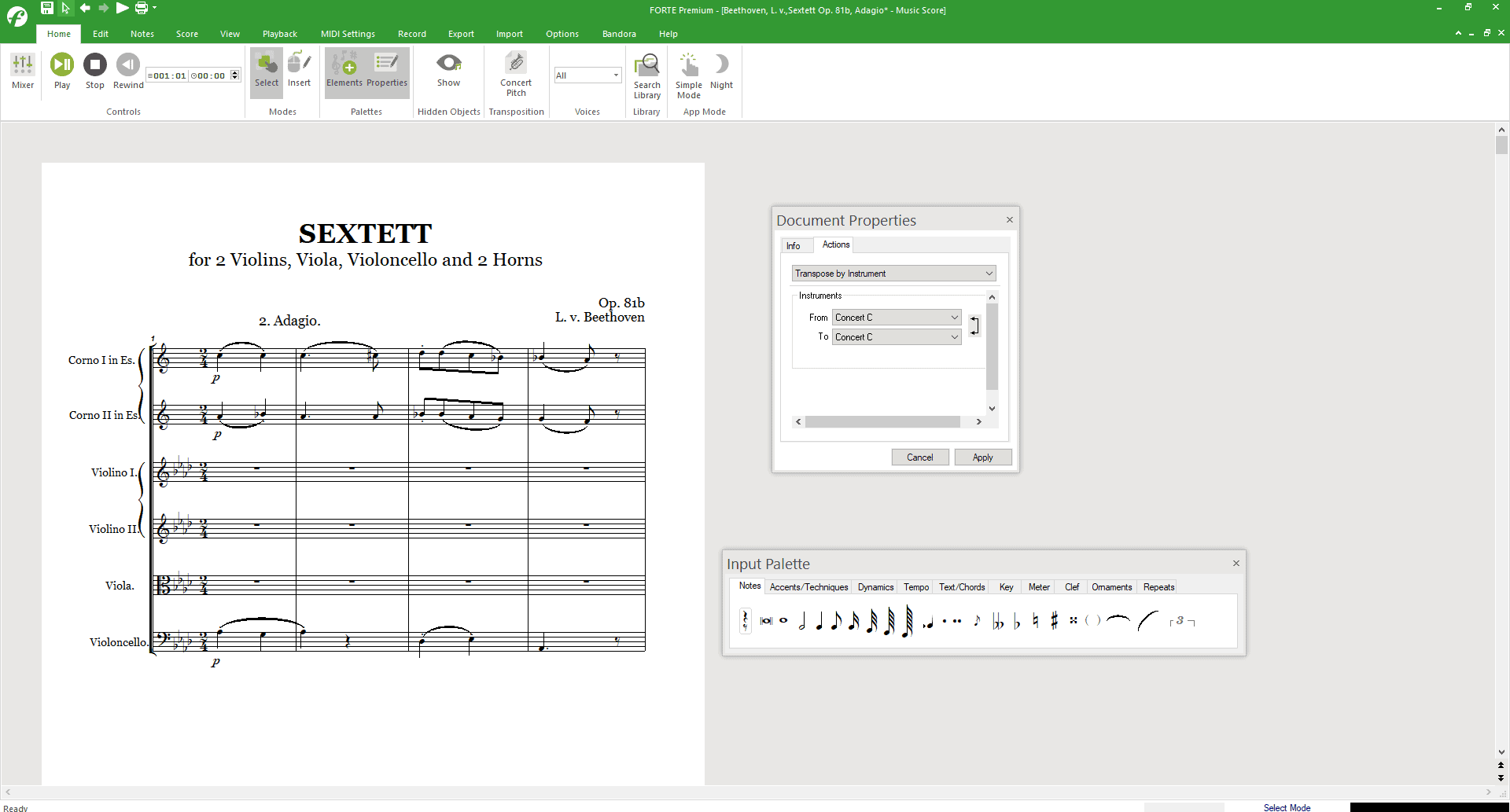 FORTE – sheet music generator for musicians of all levels
People often assume scoring and composing music are time-consuming tasks… but this software revolutionalizes these processes. 
So whether you're a music student, teacher, choir director, bandleader or hobbyist, you can make your sheet music in a few clicks.
Get started for free by downloading the free version of FORTE… 
And once you're confident using the software (which won't take long), test out the more advanced versions for greater functionality. 
What FORTE offers you
FORTE has several excellent features that keep the scoring process and sheet music generation as easy as possible. Let's take a closer look… 
Getting started 
As soon as you've installed FORTE, the welcome window opens the 'Score Wizard.' This Score Wizard helps you set up the template for your composition. 
FORTE 12 has over 100 preloaded instruments for you to choose from, and, of course, you can customize the time, tempo, key signature and much more. 
Adding notes and rests is easy
FORTE's highly-intuitive user-interface allows you to very simply add music notes to a score. It's just a matter of 'clicking' and 'dragging' notes to where you want them. 
The Music Ruler enables you to add notes at specific beats. You won't need to add rests because the programm fills up the measure automatically.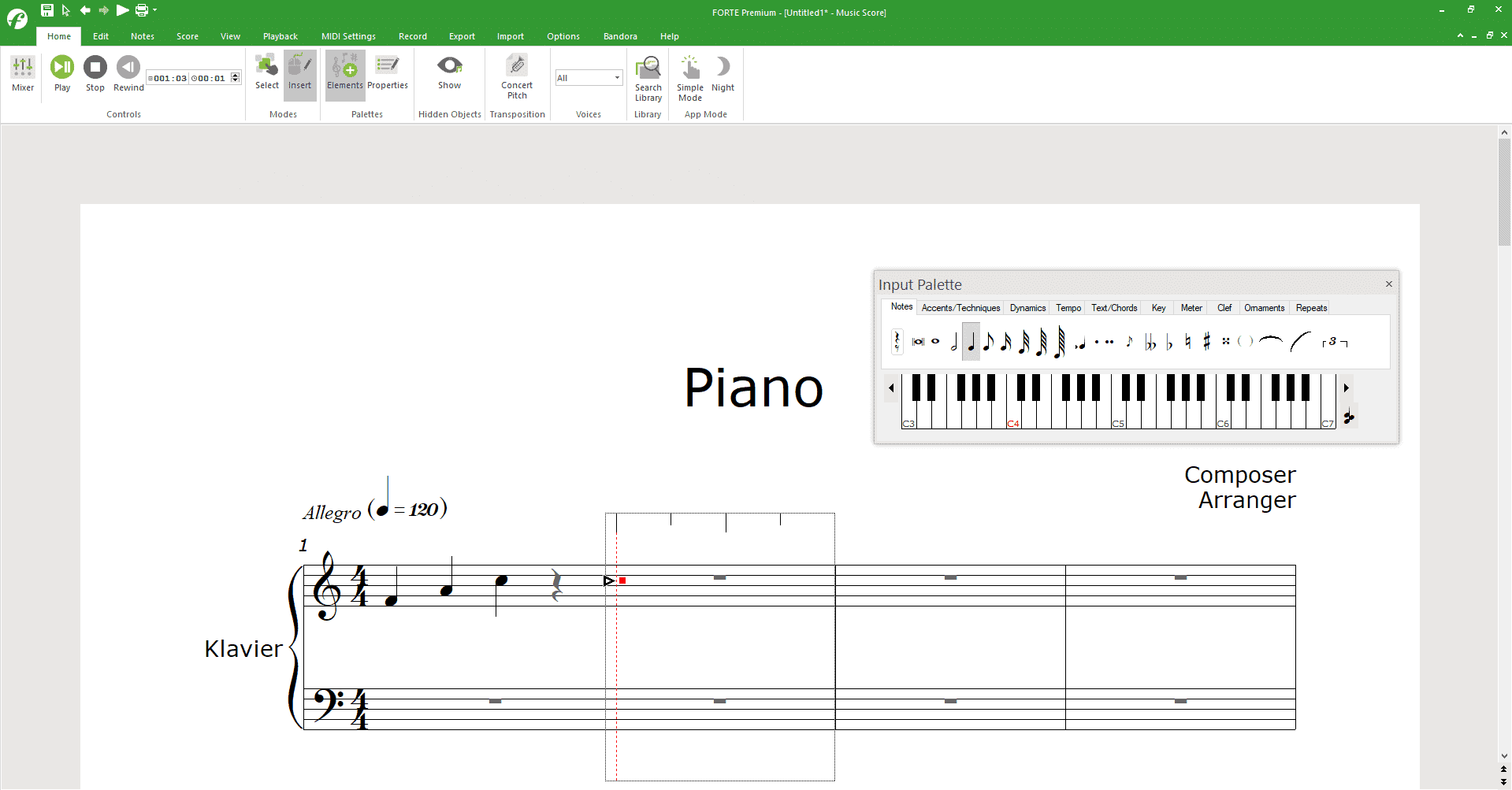 Generating your sheet music
As you become more familiar with the software, you'll soon appreciate how easy it is to make your sheet music… our aim to make it so simple that musicians can create scores in as little as 10 minutes! 
And if you want to create scores with greater complexity, FORTE has some features perfect for expanding your scores. These include: 
the audio sequencer that allows you to import audio to play along with your composition 

the MIDI keyboard capabilities so you can add notes to your sheet music with a computer keyboard 

superior scanning with ScanScore (including the ability to import PDFs)

creating automatic arrangements with Bandora
FORTE 11
The latest version, FORTE 12, allows you better scoring capabilities than ever. 
FORTE 12 benefits from: 
Overall enhanced usability for a more intuitive workflow

New Soundfont

The newly-improved ScanScore 2 (indluded in the Premium edition)
Sharing your scores with the world
Having scored your first composition, sharing it with the world is a breeze. You have several options to choose from. You can:
export the audio as an MP3 or WAV file 

burn it onto a CD or USB drive 

print your sheet music as is or customize it  
It really is that simple to make sheet music in a few clicks with FORTE 12. 
And as you gain more experience with scoring, FORTE 12 allows you to produce increasingly complex scores. There's no limit to what you can do with this music notation software… 
Try FORTE for free today
Download the FORTE Free version or the 14-day trial version of FORTE 12 Premium today and give it a try!
https://www.fortenotation.com/en/wordpress/wp-content/uploads/2015/01/Copy-of-Copy-of-Copy-of-Copy-of-Copy-of-Copy-of-Copy-of-Untitled-12.jpg
300
470
FORTE Team
https://www.fortenotation.com/en/wordpress/wp-content/uploads/2017/11/new_logo_forte-1.png
FORTE Team
2015-01-05 13:40:36
2021-03-08 11:43:25
Make Your Own Sheet Music With Just a Few Clicks [Updated for 2021]