FORTE music notation software was created by musicians, for musicians. It is user-friendly, functional and fun to use.
And it doesn't matter your skill level as a musician… FORTE's simplicity makes it easy for anyone to write music notes and create sheet music.
If you're just learning how to write music notation FORTE is, in our opinion, the very best software for you. You can get started for free by downloading the free version, and this will give you a great introduction into how to begin scoring music.
FORTE's Score Wizard
As soon as you install and start the program, a welcome window appears. Here you can either open another score or start creating an original composition.
To start a composition, we recommend you use the Score Wizard. This will guide you step-by-step through the process of creating your first piece.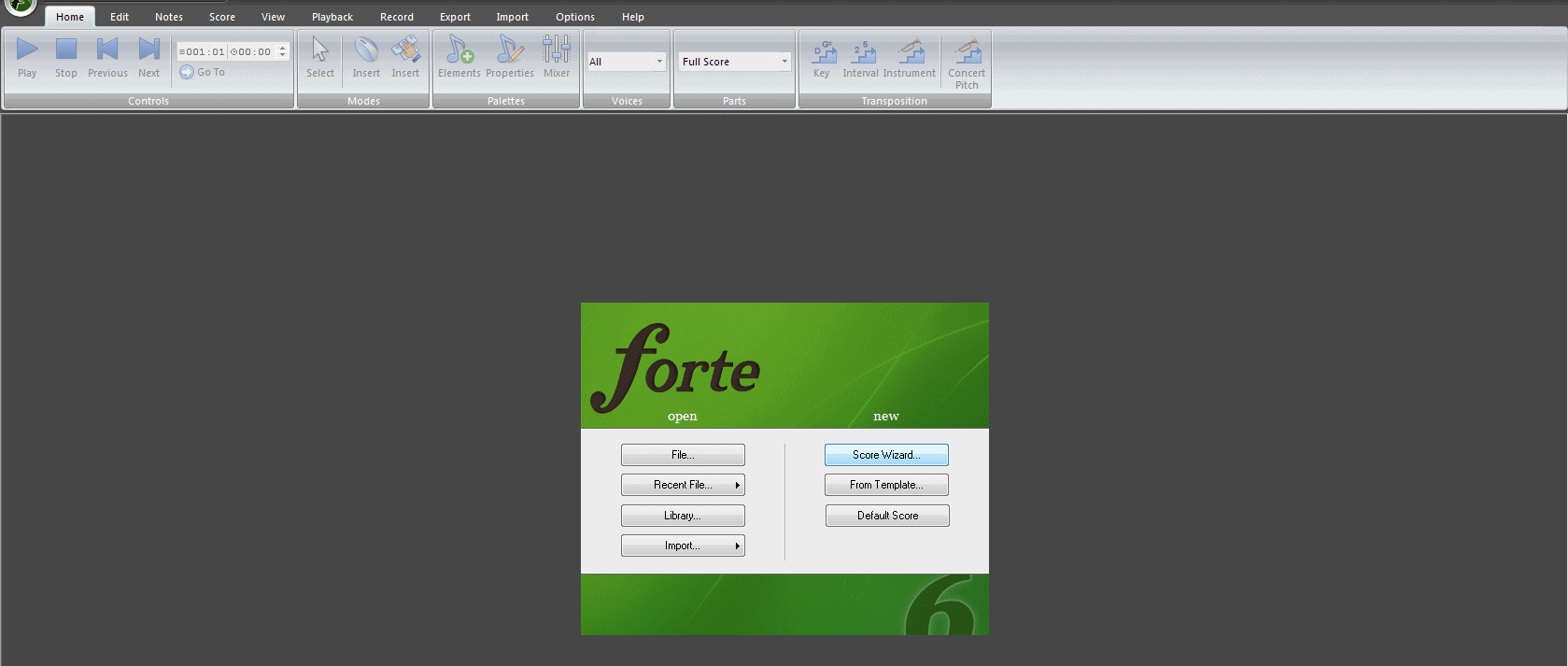 The Score Wizard helps you:
create the title
choose the tempo, time, key and how many measures you want the piece to have
choose from over 100 preloaded instruments
After this initial setup, you will have the basic elements of your score ready to go. The best way to now learn about using FORTE is by adding and editing notes.
Under the Home tab on the user interface, you'll find three super-useful modes. Start by clicking the Insert tab, and you'll see a menu pop up for adding elements, such as notes, rests, accidentals, slurs and so on.
Adding these elements is a simple process of dragging with the mouse. That is essentially how easy it is to write music notes with FORTE – click and drag.
And if you add notes to the staff that you want to get rid of, simply select the notes and remove them.
The Music Ruler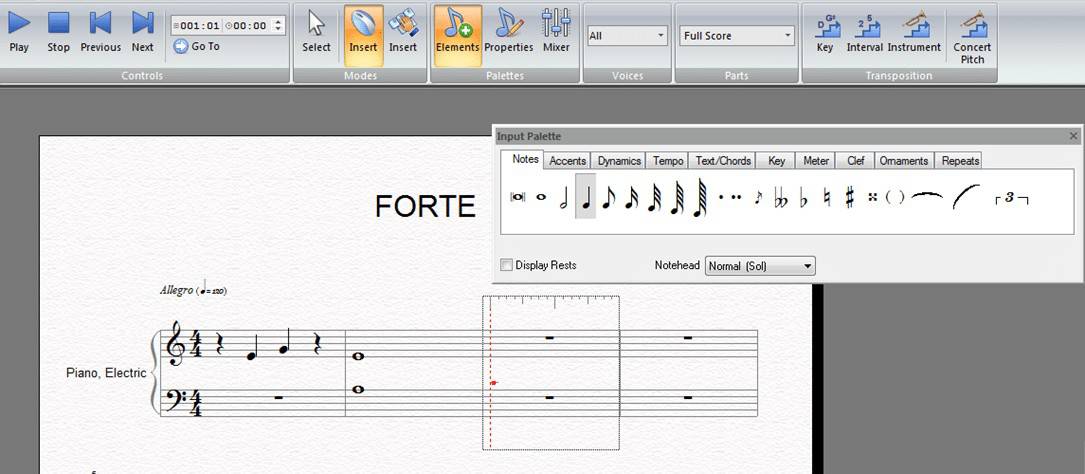 FORTE has an exclusive Music Ruler that allows you to place notes at a specific beat in the measure.
This Music Ruler makes the process of creating sheet music much easier, doing most of the work for you. FORTE will even automatically add rests where necessary.
FORTE – ideal for beginners
We designed FORTE music notation software to be perfect for beginners. And through simple trial and error, you'll quickly learn the process of writing music notes and creating sheet music.
Once you master the basics of adding notes to FORTE, you can start expanding your scoring abilities…
Try opening a ready-made score to experiment with new methods and sounds, or scan in a piece of sheet music and change things around.
Create scores in as little as 10 minutes
You can quickly scan physical sheet music into FORTE with your phone, tablet or scanner, and import digital files and PDFs, using ScanScore.
(ScanScore has been developed and released by the FORTE team. It comes as part of FORTE 11 Premium, and can also be purchased separately. To download a free trial, please visit the ScanScore website.)
This makes it super-easy to get scores into FORTE for editing, transposing and printing.
Your first score really can take as little 10 minutes to create, and before you know it you'll be wanting to write more intricate pieces.
FORTE 11
The most recent version of this amazing music notation software is FORTE 11. Some of the more advanced features may not immediately make sense when you're just getting started… but as you continue on your FORTE journey, you'll soon discover this software has endless possibilities.
Free trial
In addition to FORTE 11 Free (discussed at the beginning of this post), we also offer you a 14-day free trial of FORTE 11 Premium. This free trial allows you to test out the full functionality of FORTE 11. For more information and to download your free trial, please click here.
Special discounts for schools, teachers and students
Writing music notes and composing with FORTE is easy for people of all ages. This software is perfect for young musicians interested in composition. FORTE is a great addition for school curriculums, college students and other budding musicians who want to compose unique and original scores.
We're excited to offer special discounts on educational licenses for schools, teachers and students. For more information, please visit our Academic and Educational License page.
https://www.fortenotation.com/en/wordpress/wp-content/uploads/2014/12/Copy-of-Copy-of-Copy-of-Copy-of-Copy-of-Untitled-21.jpg
300
470
FORTE Team
https://www.fortenotation.com/en/wordpress/wp-content/uploads/2017/11/new_logo_forte-1.png
FORTE Team
2014-12-28 13:40:33
2021-05-20 12:10:34
How To Write Music Notes With FORTE [Updated for 2020]