Here at FORTE, we have long been committed to ensuring our sheet music creator tools are easy to use no matter your level of scoring expertise.
Let's look a little closer at just how simple this sheet music writer is and how you can get started today, even for free!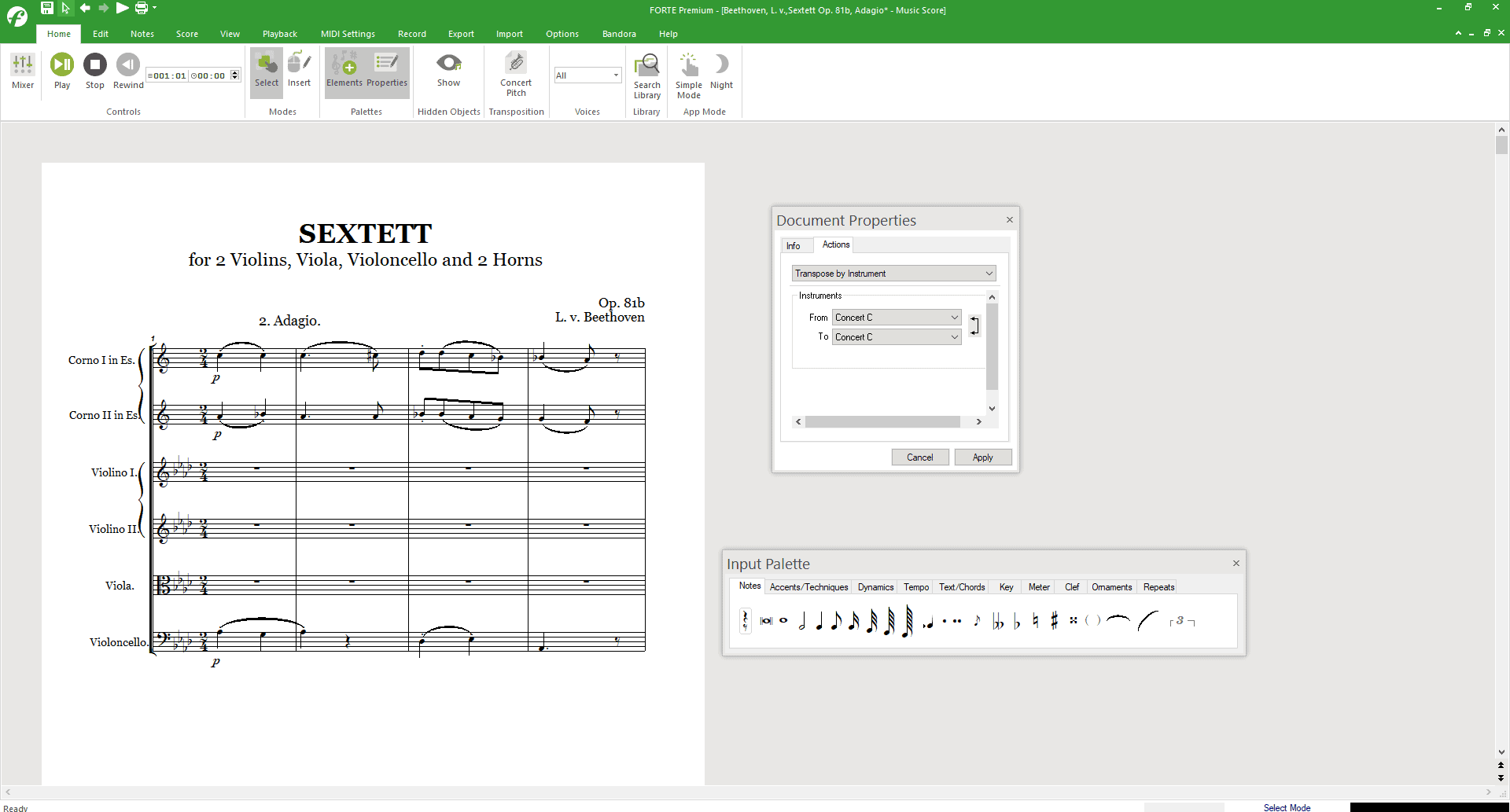 Which edition is right for you?
FORTE comes in four editions but don't let that confuse you…  
We have FORTE Free which is, as the name suggests, completely free and offers you a great introduction into the world of FORTE. There are three paid editions – Premium, Home and Basic. We offer a free 14-day trial so you can fully test-drive the software before investing in it. 
And if, having purchased the Basic (or the Home) edition, you decide you need the greater capability offered by Home or Premium… you can simply pay the difference and quickly upgrade.
As soon as you download and launch FORTE, you can open existing scores or start creating new ones. The 'Score Wizard' will guide you through the process, step-by-step.
Creating your sheet music
Music composition software has come a long way in recent years and FORTE showcases this fact beautifully. Music notation really can now be as simple as clicking and dragging notes onto a staff. And the once time-consuming, complex task of transposition becomes super-easy too.
FORTE's user interface is highly intuitive and user-friendly. You can choose from a variety of settings including:
Over 100 preloaded instruments

Score Templates

SGM Soundfont

Drum notation settings

The software features:
An audio sequencer

Intuitive upbeat function

MIDI keyboard compatibility

Expanded VST capability

MIDI Step and Live Recording

FORTE Player – Sound Library

Audio export (WAV & MP3)

XML Import and Export

Bandora – Create arrangements
And when you've finished working on your score, you will see it in a professional-looking layout, all ready for you to print off.
Why choose FORTE 12 as your sheet music creator?
FORTE 12 is the latest version of this notation software. It is fun and functional to use from the moment you install it. 
FORTE 12 offers you:
Overall enhanced usability

New Soundfont

Superior scanning capabilities of ScanScore 2 (included in the Premium package)
Once you get started, you'll probably find yourself wondering how you ever managed without FORTE… but don't just take our word for it, why not download the FORTE Free edition or download a free 14-day trial and check it out for yourself?
And let us know in the comments below how you get on and any questions or feedback you have. We can't wait to hear!
https://www.fortenotation.com/en/wordpress/wp-content/uploads/2019/11/F11_3Versio_EN_Web.png
591
912
Forte Notation
https://www.fortenotation.com/en/wordpress/wp-content/uploads/2017/11/new_logo_forte-1.png
Forte Notation
2019-04-29 07:21:05
2021-04-06 15:15:56
Easy To Use Sheet Music Creator [Updated for 2021]