Free Music Notation Software – FORTE Free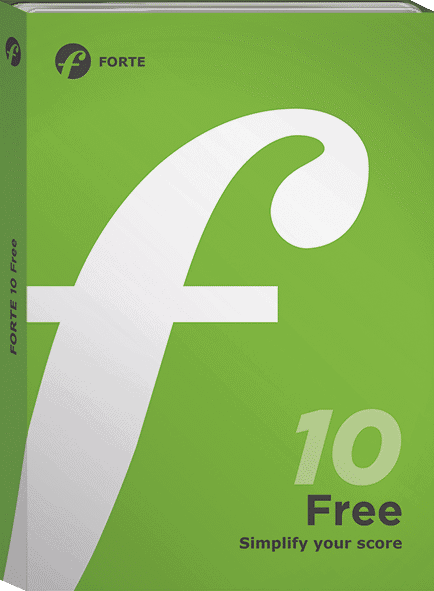 FORTE FREE is a special gift from FORTE Notation just for you!
The free edition will give you limited access to the features of FORTE.
Try the FORTE FREE edition to see just how easy this notation program is!
For more software features, check out FORTE Basic or FORTE Home.
Click here to compare all four editions of FORTE.
FORTE Free is completely for free!
FORTE Free in more detail
With FORTE FREE, you can learn how to notate music quickly and easily without any investment. It is free music writing software.
Just like the name says, FORTE FREE is absolutely, 100% free to learn, experiment with, and acquaint yourself —and you'll learn it quicker than you can say "with gusto!" Since all FORTE products are designed by musicians for musicians, we know that you don't want to waste time with tutorials when you could be creating music instead. We designed the FORTE interface so that you could learn the system easily, quickly, and intuitively; you'll pick up on how to use FORTE FREE music writing software in mere minutes.
FORTE FREE is right for anybody interested in testing out the FORTE product and interface, and it's especially great for:
• New composers—build your confidence in writing music digitally
• Seasoned songwriters—draft simple lead lines, solos, or duets for free
• Teachers—incorporate technology to teach the basics of reading music or as an introduction to composing
FORTE FREE music writing software has everything you need in order to start creating compositions, like:
• easy input for notes, accents, chords, clefs, and ornamentation
• a choice of one or two staves—perfect for solos or small ensembles
• metronome function to check your timing in each score
• import for a wide range of files
Additional benefits of FORTE FREE:
• 1 stave
• 2 voices
• 1 lyric verses pro stave
• Available time signatures: 2/4, 3/4, 4/4, 5/4, 6/8, 12/8, c and alla breve.
• System sound