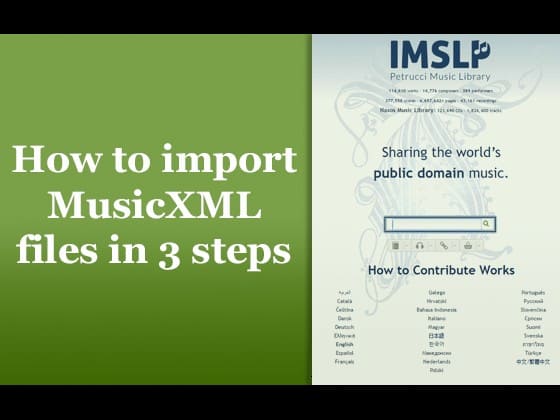 Working with MusicXML files and PDFs
The internet offers lots of legal ways of obtaining free sheet music, including MusicXML files and PDFs.
When this post was originally published in 2017, PDF files were still troubled by a decisive disadvantage… they could not easily be edited, transposed or arranged. To do so required the tiresome typing out of each note to create your arrangement.
However, ScanScore changed all this.
First released in 2019, ScanScore now enables musicians to easily read and import PDFs for editing and arranging. (It also offers musicians many other benefits including the ability to scan printed sheet music using a phone or tablet.)
To find out more about ScanScore and to download a free trial, please visit the ScanScore website.
In addition to using PDFs, you can also find a good number of scores in the MusicXML format (*.xml or *.mxl).
Both FORTE Premium and FORTE Home support a smooth and simple import of MusicXML files.
In this post, we look at how to work with MusicXML files to arrange your score. Let's get started!
How to get free sheet music in MusicXML format
We can recommend the Petrucci Music Library as an excellent source of legal sheet music.
You can simply enter the composer's names or works into the search bar. (We also recommend you add "XML" to your inquiry. For example: "Bach musicXML.")
You can use Google's search engine to get a list of many different works by Bach, see below:
We opted for the second item on the list, "Lobet den Herrn, alle Heiden" ("Praise the Lord, all ye nations", Psalm 117).
On the next page, find the file named *.xml and click on the arrow to download it.
Generally, your downloads will be saved in the folder named "Downloads."
Having downloaded the file, you need to unzip it. To do so, just double-click on the downloaded ZIP file.
Creating your score in 3 steps
1) Import the MusicXML file into FORTE
Start FORTE and import the MusicXML file you want to work with.
Once the importing is complete, the music is ready to edit with FORTE. You'll probably want to do some editing of the layout and add some title information.
For step-by-step help on editing your layout, see this post: 4 Steps To Your Perfect Score Layout
2) Transpose the score
FORTE Premium has several options for transposing scores.
You can transpose according to key, interval or instrument. These options are all found in the main menu "Home."

Select the desired key in the properties window. The little black arrow determines the transposing direction (up the fifth or down the fifth). Click "apply."
And you'll see the result right away: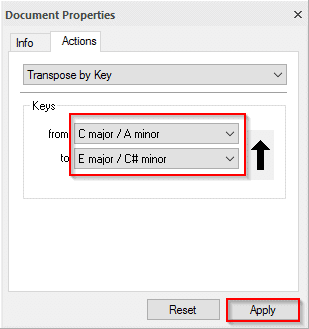 3) Print the parts
As well as transposing options, FORTE also supports your creation of individual parts for each instrument or singer. Note, even when creating parts, the complete score remains intact.
You'll find this option in the main menu "Score" and the group "Parts."

Click on the green cross button and select "Create all parts." You can now switch between the parts and edit the layout.
Please note: The printing of parts is an exclusive feature of FORTE Premium.
Want a free trial of FORTE notation software?
If you're not yet familiar with FORTE, why not download a free trial? The trial offers you access to the full functionality of the program for 14 days so you can see for yourself just how easy working with MusicXML files can be.
We hope you found this post helpful. Let us know… we look forward to your comments!
Your FORTE Team
https://www.fortenotation.com/en/wordpress/wp-content/uploads/2017/02/howtoimportmusicxml.jpg
420
560
FORTE Admin
https://www.fortenotation.com/en/wordpress/wp-content/uploads/2017/11/new_logo_forte-1.png
FORTE Admin
2017-03-03 09:00:57
2021-05-20 09:28:57
How to Work With MusicXML Files in 3 Steps [Updated for 2020]