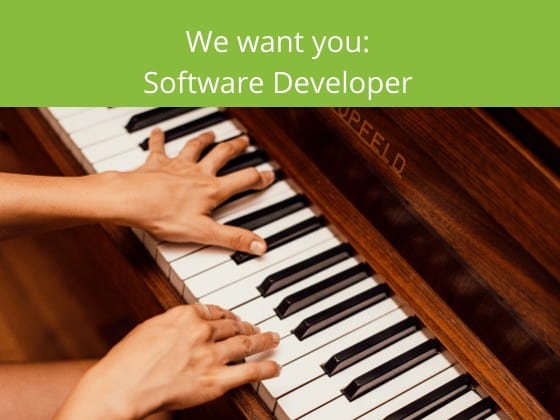 You're loving music and you're looking for a challenge to bring your profession and music together? You've gathered experience developing desktop applications? You're enthusiastic about realising your ideas in a small team of musicians and software developers?
Then we are the right choice for you!
This is our story:
We're a publishing house specialising in musical education. We're helping musical educators and teachers to inspire children and raise their enthusiasm about music. In addition to our printed products, we're developing and distributing the music notation software FORTE and related software.
Our mission statement: simplify your score! Worldwide, we're enabling musicians to capture and exchange their ideas.
Your responsibility:
Development of our notation software FORTE
Collaborating with specialised international freelancers
Background information:
The programming language is C++
The programming environment is Visual Studio
Are you the right candidate?
You're a down-to-earth software developer with an interest for usability.
You're into music.
You're a teamplayer.
You have excellent communication skills.
You're self-reliant and efficient.
You're well organized.
You would be interested in learning German.
You're into working with a small motivated team in order to create the future.
The perks:
Meaningful job: What's better than sharing your musical enthusiasm with other people?
Responsibility: Your ideas matter and form the future of our software.
Fair working hours: Your work and your family life are compatible.
Great team – and fun: Our jobs are meant to be fun!
Near Hamburg: The office is a 30 minute drive from downtown Hamburg.
Apply now!
The job is vacant from January 1st, 2020 onwards.
Please send your application via email to:
Sebastian Lugert
Lugert Verlag GmbH & Co. KG
Hauptstr. 18
21447 Handorf
Email: s.lugert (at) lugert-verlag.de
https://www.fortenotation.com/en/wordpress/wp-content/uploads/2019/12/visual-developer-blog1.jpg
420
560
FORTE Admin
https://www.fortenotation.com/en/wordpress/wp-content/uploads/2017/11/new_logo_forte-1.png
FORTE Admin
2019-12-11 10:30:29
2020-01-13 21:10:11
Hiring: Software Developer