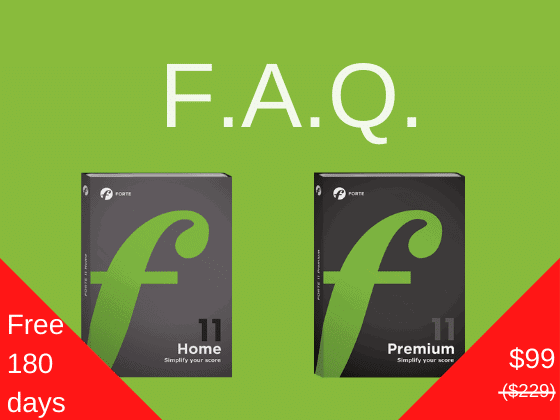 There are many question in this current situation – also about our offers.
Find the most frequent one answered below:
So, what is this about?
Music can help us all to get through this time as best we can.We would like to support you in your isolation as much as possible. Therefore we have thought about how we can offer something helpful to as many of you as possible. At the moment there are with us:
1. FORTE Home for 180 days free of charge.
2. FORTE Premium for $ 99 (instead of $229)
How long will the offer be valid?
This offer will be available for a little while.
Can I upgrade my license?
Of course you can! Look at your upgrade rates here.
What does FORTE 11 Home do?
FORTE Home is a powerful notation software offering you loads of features and comfort. Being a passionate singer or pianist, you'll have your music set in the blink of an eye. For example, you can add 6 verses directly to the staves. You'll also have the full array of notation elements – your score will look and sound like it's supposed to do! You can record MIDI in realtime – less of that frustrating clicking business and your music writing is quickly done. Enjoy the fun with Bandora and experiment what your music would sound like if it was a small arrangement. Share your music easily with your friends and save your scores as mp3. Download your free FORTE 11 Home.
What's the catch?
There's no catch. The license is free. It's valid for 180 days. You can write, save, print and export your sheet music. After 180 days, the program just doesn't start anymore. There's no risk at all. You will not be charged anything. Download FORTE 11 Home here.
https://www.fortenotation.com/en/wordpress/wp-content/uploads/2020/03/Blog_FAQ180_DEEN.png
420
560
FORTE Admin
https://www.fortenotation.com/en/wordpress/wp-content/uploads/2017/11/new_logo_forte-1.png
FORTE Admin
2020-03-27 11:36:13
2020-03-27 11:54:31
Frequent questions about our offers