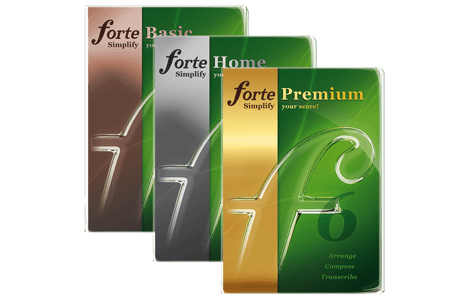 If you are looking for intelligent music notation software that is extremely easy to use, look no further than FORTE.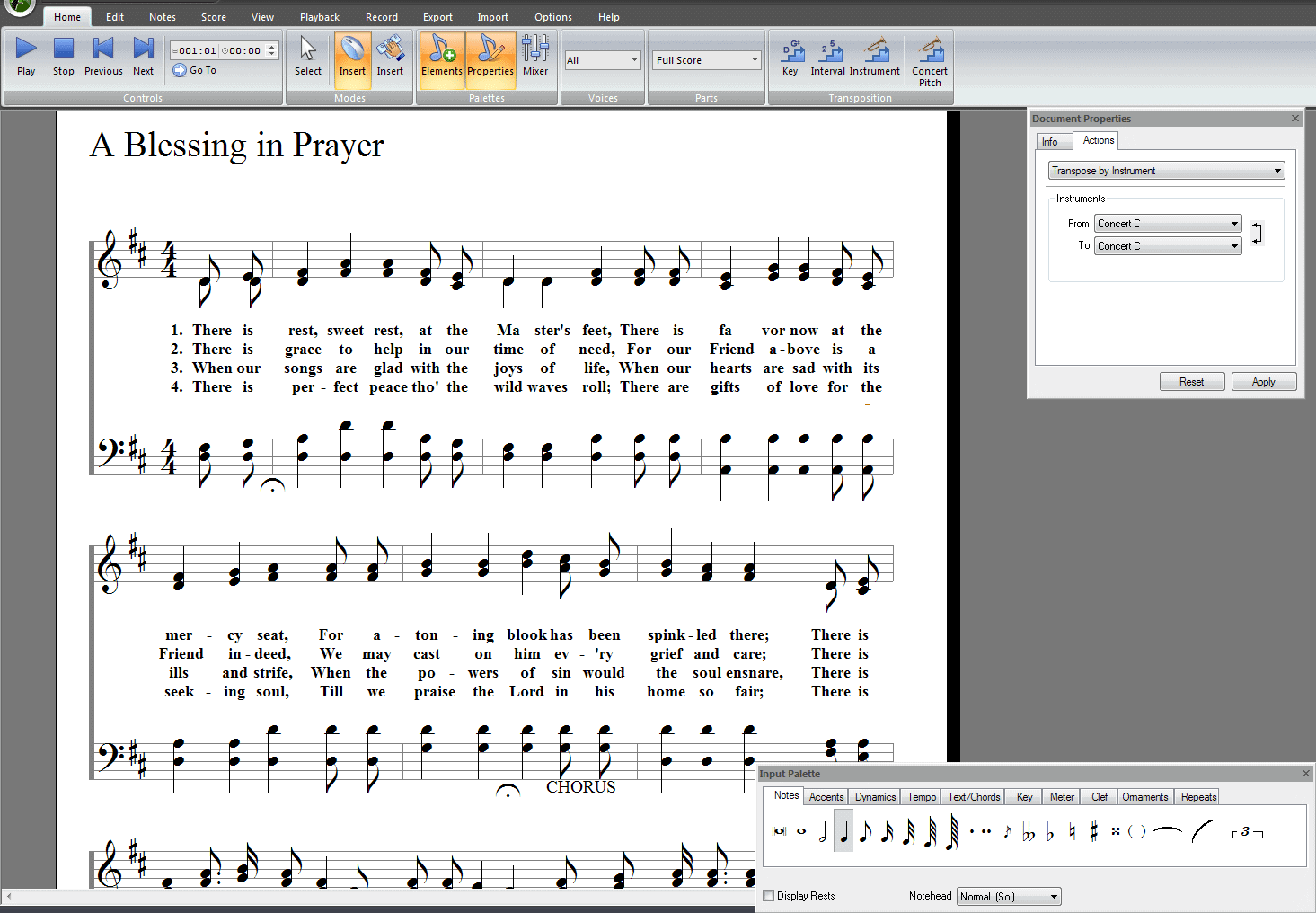 This software has the ability of limitless scoring creativity and lets you make your own sheet music, yet it is deceptively simple. Too often people assume that scoring and composing music is a time consuming task, no longer with this software marvel. Whether you are a music student, teacher, choir director, bandleader, or home hobbyist you can make your own sheet music with just a few clicks!
You can start by downloading the free version of FORTE right now. Once you quickly get the hang of it you can expand to three more versions of the software depending on your needs. FORTE has a number of excellent features that keep the scoring process as easy as possible and you can make your own sheet music easily.  As soon as you have FORTE installed the welcome window has what is known as the Score Wizard.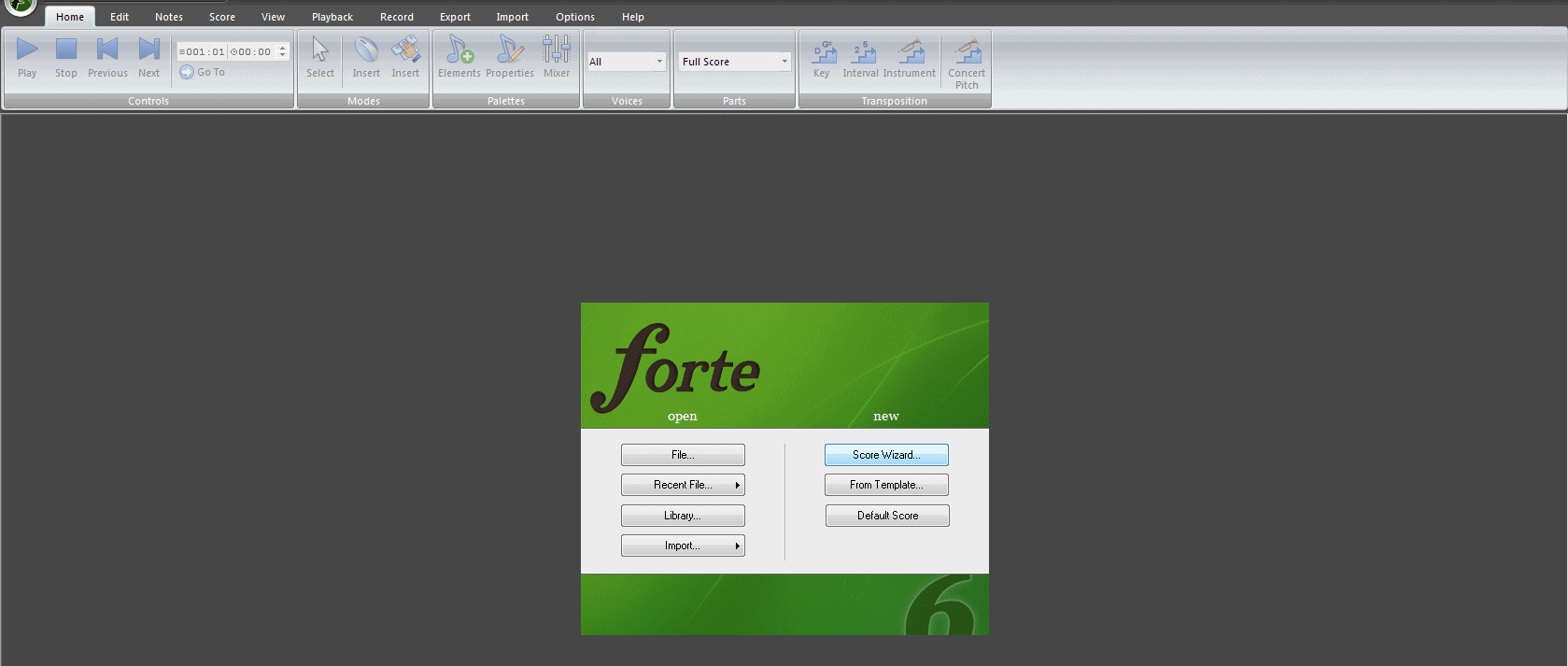 The Score Wizard helps you set up your template for your composition very fast. With just a few clicks of the mouse you will have over 60 instruments to choose from, time, tempo, key signature and more all ready to go. The extremely intuitive user interface then allows you to simply add music notes. It is just a matter of clicking and dragging the notes right where you want them. FORTE also includes a Music Ruler which allows you to add notes at specific beats without worrying about rests.
The Music Ruler takes care of the rests for you, making a foolproof way of making your own sheet music. FORTE is truly that easy, it is not an exaggeration to say you can make your own original sheet music with just a few clicks.
Once you realize how simple it is to make your own sheet music, you will be able to create your own score in about 10 minutes. From there if you wish to advance FORTE has a number of features that are perfect for expanding your score. FORTE has an audio sequencer that allows you to import audio to play along with your composition. It also has MIDI keyboard capabilities that way you can add notes to your sheet music with a keyboard. When you gain more experience with scoring FORTE will allow you to create complex scores, there is no limit to what you can do with this amazing music notation software.
And now the newest version, FORTE 6, allows you even better scoring capabilities. FORTE 6 now has a new screen view and enhanced music screening. That way when you decide to scan sheet music it will be imported to your computer exactly as you see it on the page. FORTE 6 also has new support of transposing instruments. If your transposing instrument is not on the list, well it is a simple matter of adding it to the already long list of 60 instruments. Once the notes are added to the staff, transposing is as easy as a click of the mouse.
After you score your first composition, it is a breeze to share it with the world. The audio can be exported as a MP3 or WAV file and it can also be burned onto a CD or USB drive. The layout of your sheet music is also ready to print, of course if you like you can always customize how you want your sheet music to look. It is really that simple to make your own sheet music with just a few clicks. Download the free version of FORTE today and give it a try!
https://www.fortenotation.com/en/wordpress/wp-content/uploads/2014/12/FORTE6_3Verpackungen_webEN.png
300
470
FORTE Team
https://www.fortenotation.com/en/wordpress/wp-content/uploads/2017/11/new_logo_forte-1.png
FORTE Team
2015-01-05 13:40:36
2019-04-29 07:51:19
Make Your Own Sheet Music With Just A Few Clicks