Free Music Notation Software – FORTE 5 Free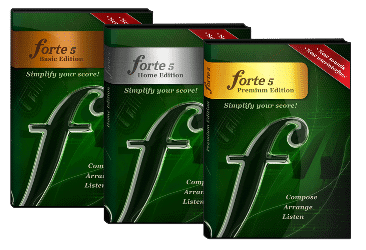 FORTE 5 FREE is a special gift from FORTE Notation just for you!
The free FORTE 5 music notation software is perfect if you've tried other products and found that they don't meet your needs. Complex music notation softwares are a thing of the past with the FORTE 5 line of products. The free edition will give you limited access to the features in a music notation software system that is easy to learn and navigate… FORTE 5!
Try the FORTE 5 FREE edition to see just how easy this system is!
For more software features, you can get immediate access to FORTE 5 BASIC for ONLY $15!
Click here to compare the 4 editions of FORTE 5.
FORTE 5 Free is completely for free!
Tweet