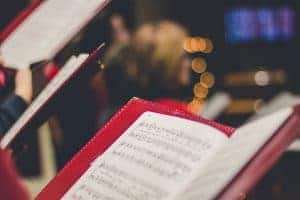 What is "FORTE for Choirs and Ensembles"?
"FORTE for Choirs and Ensembles" is a set of different bundles that enable you to purchase licenses for a lot of people for little money.
Whatever you need, you should find a suitable bundle for you and your choir, orchestra or band. As you can see, each bundle contains several licenses:
So, each user will have a license of their own, fully functional and working independently from the other licenses in the bundle. Additional benefits include:
Regular releases of free updates
Upgrade your FORTE license for a special rate
Get free expert support from our customer support team
What are the benefits for me as a conductor or leader of a choir?
Notation software will help you more easily arrange your music for the choir or orchestra:
Transpose or create parts
Share scores easily via e-mail with all the singers or instrumentalists
Enjoy having less paper to carry around and keep organized
Arrange playbacks for your choir's study sessions
Basically, you will enjoy the advantages of a fully functional premium program at a very special rate. You'll get free updates for your license, and receive free and personal expert support from our team.
What are the benefits for my choir?
Each member will have a functional notation program and they'll be able to begin or continue their musical education at home. (For example: FORTE Basic supports the display of the note's name.)
By having a digital copy of the sheet music, your singers will become more familiar with it.
They'll be able to print copies customized to their individual preferences.
Singers can hear and repeat playbacks as often as they like.
Your choir can engage in a debate about a musical topic.
Singers will become more secure about their voices and the rehearsals greater fun for everyone involved.
How does it work?
Order your bundle
and we'll send you a confirmation email containing a link to the registration page. On this page, you'll be asked to enter the email addresses for the licenses. If you don't have all the addresses ready, no problem, you can simply revisit the registration page later and add the other addresses.
Please note: You can distribute one Premium license only, while there are unlimited Basic licenses at your disposal.
Please explain more about the money-back guarantee.
If you're not happy with your purchase, we'll refund your money within the first 30 days of your purchase. If you want refunds for single licenses from your bundle, please contact FORTE's customer support team.
How many devices is a FORTE license valid for?
You can install each FORTE license on two devices.
I'm not singing in a choir.
No problem at all! If you're playing with other musicians in a band, a small ensemble or a big family, FORTE for Ensembles is for you. With this bundle, you'll receive three, four or five licenses for FORTE Premium at a special rate.
The benefits include:
Premium licenses can be used on several computers.
Each member of your band or family can work independently while being able to share ideas more quickly and easily than ever before.
Scores can be sent easily by email and each member can contribute to the opus.
Everyone knows what's going on! And you won't waste valuable rehearsal time in endless discussions – rehearsals become more fun.
Save up to 50% compared with individual license purchase.
I'd like to purchase a boxed version, is this possible?
The special offers discussed in this post relating to FORTE for choirs and ensembles are only available as downloads (and not as boxed products). It's by saving on the wrapping and transportation of the products that we're able to offer the special rates. (It also makes for a happier Planet Earth!)
Where can I get FORTE for my choir/ensemble?
Buy FORTE for Choirs here.
And buy FORTE for Ensembles here.
https://www.fortenotation.com/en/wordpress/wp-content/uploads/2016/06/Copy-of-Copy-of-1-2.jpg
300
470
FORTE Team
https://www.fortenotation.com/en/wordpress/wp-content/uploads/2017/11/new_logo_forte-1.png
FORTE Team
2016-06-17 15:02:04
2020-02-02 14:04:52
FAQ: FORTE for Choirs and Ensembles