FORTE 7 Worship
The Ultimate FORTE Edition for those who LOVE HYMNS!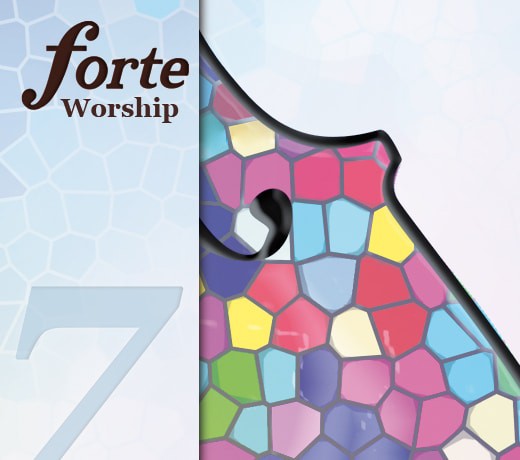 We are excited to offer the FORTE 7 WORSHIP edition for musicians, choir directors/leaders, and individuals who have a special passion for musical hymns! The tedious and time consuming task of finding sheet music and lyrics for traditional hymns is OVER. The FORTE 7 WORSHIP edition is a special version of the FORTE 7 PREMIUM edition + over 750 traditional hymns! That's right… we did all tedious, time consuming work of finding hymns, and put them all in one place for you.
Now, searching for a specific hymn (see full list of hymns below) is as easy as the click of a button! This SPECIAL EDITION can help you create lead sheets, scores and parts quickly and accurately. It has never been easier to locate, create, print and share your music with your congregation, choir or band. Just think of the possibilities when you are able to take a traditional hymn and customize or personalize it for your performance. The possibilities are endless with the FORTE 7 WORSHIP edition.
It's as easy as 1-2-3…
1. Choose your hymn from the collection; adjust it to your level of performance.
2. Customize the hymn to another key and hear it via the playback feature; or build a new arrangement.
3. Print individual sheets, including your own images or symbols!
Get immediate access to our library of 750+ hymns PLUS the FORTE 7 PREMIUM edition for ONE LOW PRICE!
BUY IT NOW FOR ONLY
$ 249
You will agree that it's well worth the investment!
FORTE Worship: Traditional Hymns Collection (extract)
| | | |
| --- | --- | --- |
| A Pilgrim and a Stranger | Jesus Loves the Children | Prince of Peace, Control My Will |
| Amazing Grace | My God, My King, Thy Various Praise | Safe in the Arms of Jesus |
| Beautiful Savior | New Every Morning is the Love | Sing to the Lord of Harvest |
| Every Moring Mercies New | O Christ, Our True and Only Light | That Easter Day With Joy.. |
| Great God of Nations | O Happy Day That Fixed My.. | The Day of Resurrection |
| Holy Spirit, Truth Divine | O That Will Be Glory | The Valley of Blessing |
| In Peace and Joy I Now Depart | Praise Him All Ye Little Children | We'll never say Good-bye |
…and many many more!
You can view the complete list of hymns here!

More Details on FORTE Worship
For the first time ever, music notation software and the canon of church hymns have teamed together to provide a one-of-a-kind product especially for those of your involved with church music.
Selecting Sunday morning music and creating your own custom arrangements of hymns just got so much easier with FORTE 7 WORSHIP. That's right—the tedious task of tracking down just the right lyrics and sheet music is over.
FORTE 7 WORSHIP edition is a specialized version of FORTE 7 Premium created specifically for music ministers, choir directors, worship leaders, and arrangers
Not only will you receive all of the benefits of the FORTE 7 PREMIUM software, but you will also have more than 750 hymns right at your fingertips thanks to our digital library. Looking for the charts of a specific, hard-to-find hymn? FORTE 7 WORSHIP lets you find it with the click of a button!
With FORTE 7 WORSHIP, you can:
• adjust any hymn from the library to your group's performance level
• change keys and hear how it will sound thanks to the Playback feature
• create a new arrangement to Sunday morning standby
• arrange your own medleys of congregation favorites
• discover new music for your group to share with the congregation
• bring a new level of enthusiasm to the worship experience
Whatever you want to accomplish with your church music program, FORTE 7 WORSHIP will give you the tools you need to reach a higher level of greatness.