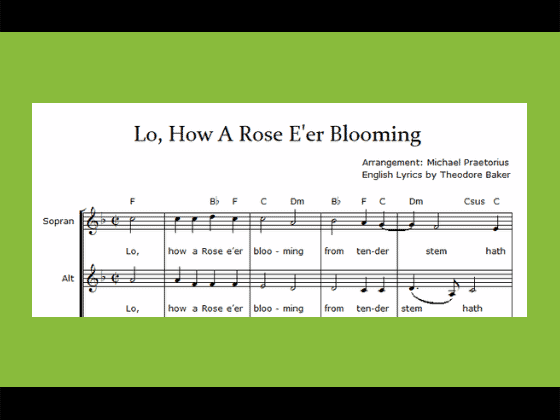 For Christmas, we want to share one of the most popular Christmas carols with you. It is an old German tune, translated into English as "Lo, How A Rose E'er Blooming". The famous German composer Michael Praetorius set it for choir more than 400 years ago, and it is well-known with most choir singers. So enjoy this wonderful piece of music in FORTE and download the score we are providing for you.
This file also contains also the harmonies for the song. This way you can export the song to Bandora and experiment with new sounds for the old folk tune. Our personal favourite is the "Hip Hop" style. Praetorius really rocks!
Download the file here.
The file is contained in a zip package. They are optimized for FORTE 10. Please un-zip the file before opening it with FORTE.
If you don't have a license for FORTE 10 yet:
Download a free trial version here.
We wish you a wonderful advent and a merry Christmas!
https://www.fortenotation.com/en/wordpress/wp-content/uploads/2018/12/rose_english.png
420
560
FORTE Admin
https://www.fortenotation.com/en/wordpress/wp-content/uploads/2017/11/new_logo_forte-1.png
FORTE Admin
2018-12-07 15:48:03
2018-12-07 16:02:07
Free Sheet Music for Christmas