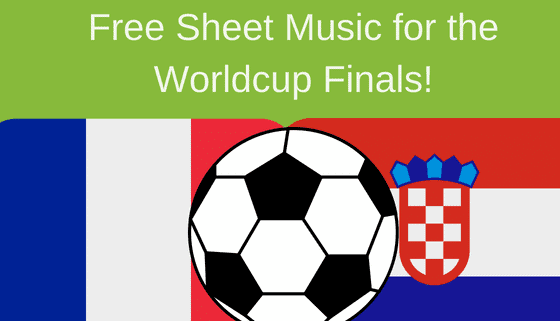 For the world cup finals, there's some sheet music and background information prepared for you about the national anthems of France and Croatia.
Download the sheet music here:
The sheet music is optimized for FORTE 9.
If you don't own a license of FORTE 9, download the trial version here.
(The download above is a zip file containing two FORTE files.)
The music that became the respective anthems of the two nations could not be more different:
The Marseillaise has been used since the 18th century.
The text and music is by Claude Joseph Rouget de Lisle.
The Croation anthem's background is not totally clear, but the music is attributed to Josip Runjanin.
The anthem has been officially used since 1972.
But way more exciting is a comparsion of the different lyrics:
Croatia
Our beautiful homeland,
O so fearless and gracious.
Our fathers' ancient glory,
May you be happy forever.

Dear, you are our only glory,
Dear, you are our only one,
Dear, we love your plains,
Dear, we love your mountains.
France
Arise, children of the Fatherland, The day of glory has arrived!
Against us, tyranny's Bloody standard is raised,
Do you hear, in the countryside,
The roar of those ferocious soldiers?
They're coming right into your arms
To cut the throats of your sons, your women!

To arms, citizens,
Form your battalions,
Let's march, let's march!
Lest an impure blood water our furrows!

Enjoy watching the exciting final and as always – happy scoring to you!
https://www.fortenotation.com/en/wordpress/wp-content/uploads/2018/07/2.png
420
560
FORTE Admin
https://www.fortenotation.com/en/wordpress/wp-content/uploads/2017/11/new_logo_forte-1.png
FORTE Admin
2018-07-12 12:42:28
2018-07-12 12:48:59
Free Sheet Music for the Worldcup Finals France vs. Croatia