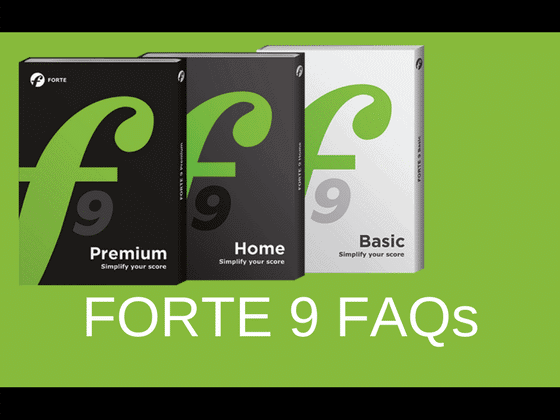 In the past couple of days, we received many questions about FORTE 9.
Here are answers to some of the most frequent questions composers like you have asked:
What's new?
FORTE 9 comes with more than 40 improvements. Read the news posts and watch the previews here on our blog.
Is there a box edition?
Yes, there is a box edition of FORTE 9. Box editions are $10 more than the download edition. If you'd like to order FORTE 9 in a box, please click here.
I already use a previous version of FORTE. How much is an upgrade to FORTE 9?
When you click the link below, simply enter your email address and the system will automatically recognize your license. Depending on your license, upgrade rates for FORTE 9 Premium start for as little as $39.
Get your upgrade here.
Is there a guarantee?
Yes! If you are not entirely satisfied within 30 days of purchasing FORTE 9, we'll refund your entire purchase price, no questions asked. Just send an email to support (at) fortenotation.com.
I heard about a video course? What's that all about?
That's right! This year, you'll get a free bonus to your FORTE license: a 60 minute video course "FORTE 9 – Step by Step" worth $49. You'll receive the link and password for this online course via email after the launch.
I already ordered FORTE 9. Why did I get this message?
That's great to hear! If your paypal address (the one you used to pay for the license) and your newsletter address (the one you use to receive this message) are different, you might be on the list twice, so, you may get a double dose of news. Just write us a short message and we'll correct your data manually.
https://www.fortenotation.com/en/wordpress/wp-content/uploads/2017/11/Blog_FAQ_F9.png
420
560
FORTE Admin
https://www.fortenotation.com/en/wordpress/wp-content/uploads/2017/11/new_logo_forte-1.png
FORTE Admin
2017-11-27 13:31:51
2017-11-27 13:38:58
FORTE 9 - FAQ