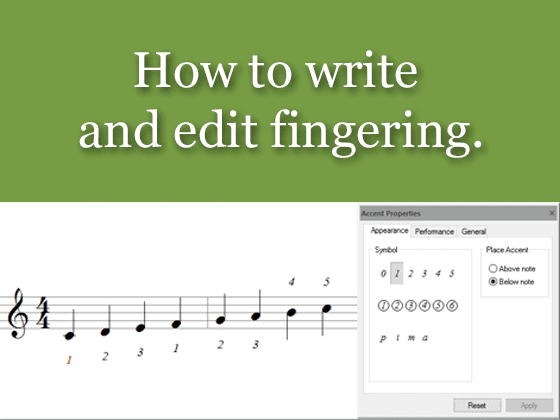 "How can I make the font of the fingering bigger?
At the moment, I cannot read these numbers. Changing the text settings in the layout options didn't do anything..."
Fingering is meant to help you (or your students) navigate your sheet music. Naturally, you want your navigation to be easy for the eye. The numbers for your fingers must not interfere with your playing. Whatever feels like "interfering" depends upon on your individual preferences.
Write your fingering.

In order to accommodate your wishes and preferences when it comes to reading ease, FORTE comes with a variety of layouting options for your fingering.
Let's have a look at the options step by step (and of course we'll cover Mark's question!).

These are the different types of numbers you have at your disposal. You will find them in the tab "Accents / Techniques" of the input palette.


As a rule, the place of the fingering is opposite the direction of the note's stem.
If the stem goes up, the fingering is below the note. If the stem goes down, the fingering is above the note.
Edit the properties of your fingering.

Doubleclick on the fingering. The properties window opens.
The tab "Appearance" allows you to change the number or symbol. You can also change the place of the element from "below" to "above" the note and vice versa.
The tab "Performance" would allow for editing the ways this element influences the playback of the note. In the case of fingering, this tab is irrelevant.
In the tab "General" you can reposition the element, change its color or hide it completely. Please note: Changing the size value will not affect the symbol here!
Layout your fingering: Position and size.

While you're making the final adjustments on your layout, you can also edit the position of the fingering. If you'd like to reposition an element, please click on the element. It should turn red now that it's marked. Press ctrl and keep ctrl pressed while using the arrow keys to reposition the element to the desired place.
Edit the size of your fingering's numbers here:
Score - Layout - General - Expression - Change

Please note:
In this selection, all accents are edited. It might be necessary to adjust some accent's size manually again. Please open the properties window of the element you want to edit and adjust the percentage value.
Curious to find out more about accents and the other elements of the input palette?
Read our article here.
Looking for layouting tips? Here they are.

More tutorials are available on our youtube channel.

How did you like this blog post?
We're looking forward to your comments and suggestions
for more posts and tutorials!

https://www.fortenotation.com/en/wordpress/wp-content/uploads/2017/06/howtowriteandeditfingering.png
420
560
FORTE Team
https://www.fortenotation.com/en/wordpress/wp-content/uploads/2017/11/new_logo_forte-1.png
FORTE Team
2017-06-23 14:18:18
2017-06-23 14:18:18
How to write and edit fingering