All set and ready to go for a second round?
Where's…? How can I enter…? Where do I find…?
Here we are again. Ready to present to you the second part of our great cheat sheet. This post is all about the text that surrounds your music. You like singing? Here's everything you need to know about notes and their lyrics.
You don't like singing at all? Really? Come on… you've got to be kidding me! There'll still be some helpful clues for your music in here for you, too 🙂
Text / Chords


Here's a full package! All elements around the musical text are here. Let's look at it step by step. The button "Title Text" at the far left allows you to complement or edit the score's information. FORTE 8 comes with an updated dialogue. This is what it looks like:



To keep your print outs in order, add header or footer information to your score. This nice & comfortable feature also comes with FORTE 8. The button "Text" allows you to – guess what – enter text into your score. The next button, "Marker", is bound to a certain time of your score. You could, for example, label performance directions or units of your score using "Marker". Markers are also helpful for playback options (Check the "Go to" dialogue: you can select markers, rehearsal letters etc. as the starting point).
While we're at it: Rehearsal letters and numbers are also in this tab, right between "Lyric" and the chord symbol. These elements are always set at the beginning of a measure. If you'd like to change that, mark the element and move it by pressing ctrl while using the arrow keys to navigate.
One really important and frequently asked subject: LYRICS!


Pick the type of your lyric (verse, chorus, block) right here and now. You can also decide the general location of the lyric (above, below, between the staves). Select & click the first note of your score that should be sung. Now you can type your text: A blank divides the syllables and assigns the syllable to the next note. If you type a hyphen (-) or an underscore (_), the syllable will continue for several notes.
If you want to add another verse, open the properties window of the lyric. Go to the tab "Text" and select the correct verse number.
If you right-click on the lyric, you can display the verse number or hide it again.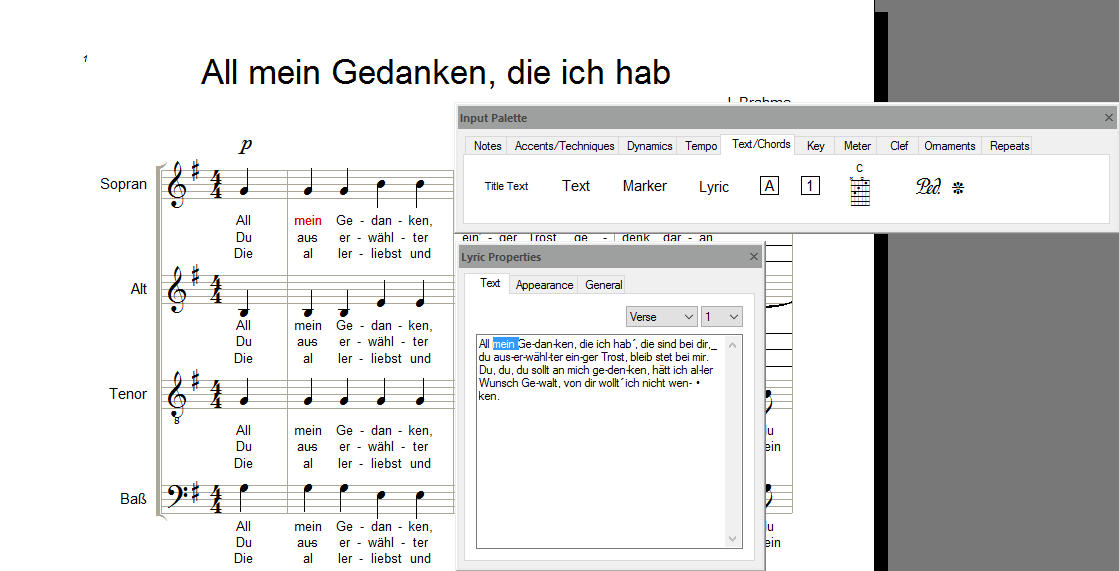 If you're writing a lot of music for choirs or ensemble, you already know how to work with several voices. You also know that it's important to adjust the spacing in the layout options accordingly for all parts and all lyrics. But did you know that you can assign different lyrics to each part? If you select the voice level in the main menu "Home", you can add yet another lyric as a first verse. We've prepared a short video for you on lyrics:
Now about those chords…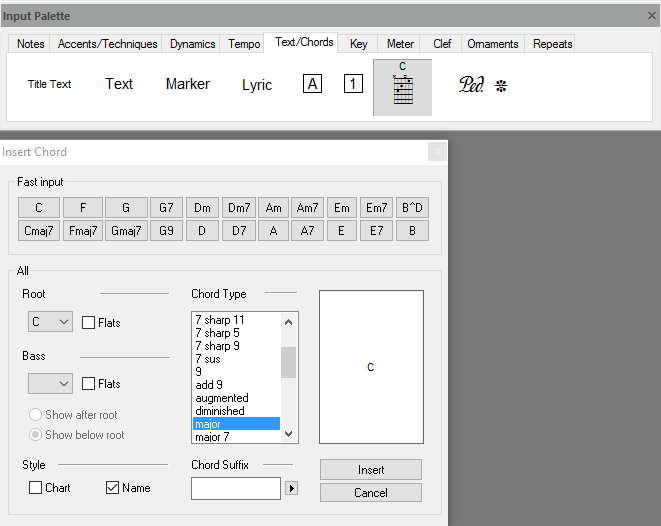 If you click the chord symbol, another window will open. You can configure your chords here. The most common chords are under "Fast input", for, well, faster input. Every other chord you want to write… you have all the components at hand.
You can also select the style of the chord you want displayed: Whether it's just the name, just the chart or both. Look at the lower left corner: you can check those style boxes here.
We explained to you how to change the chord's language here. This setting cannot be edited in the input palette. If you select Italian as the chords' language, you can make use of the note name recognition for your shape notes. Please note: At the moment it's not possible to set up chord charts of your own. If you prefer to write tablature, we've prepared a tutorial for you here.
The tab's last symbol is most interesting for pianists:


Select the use of pedal for your score. You can also select several style for the pedal notation. Whatever you prefer. Wow! It's really packed, this one, isn't it?
So much for this big tab of the input palette.
In the next & last part, we'll cover the last tabs, from "Key" to "Repeats". How did you like this article?
We're looking forward to your comments!
https://www.fortenotation.com/en/wordpress/wp-content/uploads/2017/01/inputpalette_2.png
420
560
FORTE Team
https://www.fortenotation.com/en/wordpress/wp-content/uploads/2017/11/new_logo_forte-1.png
FORTE Team
2017-01-25 11:27:59
2017-07-04 13:54:09
The Powerful Input Palette - Lyrics & Texts (Part 2)