All set and ready to go for the great finale?
Where's…? How can I enter…? Where do I find…?
In the last part of our portrait, we'll cover the remaining tabs from "Key" to "Repeats".
Key


Pick your new key with greatest comfort and ease. You'll just need two clicks. You don't need to know the circle of fifths off by heart…
Because you can either select the key OR the desired amount of sharps and flats. One more click with the newly selected key into the desired measure and off you go in a different key. 🙂
Meter


Just the service we seek to give you: the most common meters are immediately displayed. It's really just ONE click for you. Of course, you can add meters of your own. Look at the input field at the right end of this tab. The FORTE program's logic is based on meter. So, sometimes it's necessary to adjust the metric system. Here's an article explaining to you when and how to do that.
Clef


One click and you've got the correct clef. That's the way to do it, right? If you want to shift the octaves using 8va, 8vb or 15ma, you'll decide upon a starting and an ending point in you score. Pretty much like you did with the crescendo above.
Ornaments


What would music be without a trill? Like a cake without icing! This tab shows you all the ornaments for your notes. Like before, the mouseover gives you the name or explanation of a symbol.
Please note: Arpeggios and glissandos will not be followed when you play back your music. If you'd like to write a glissando, select the symbol, then draw a box around both notes.
Repeats


Here we go again. For small units, there are "repeat notes and patterns". For larger parts, there are repeat symbols of all names and sizes. Playing your music back, only the repeat symbols for the larger units are followed. For example the left and right repeat bar, the first and second endings or text input like "D.C.".
Let's have a closer look at the first and second endings: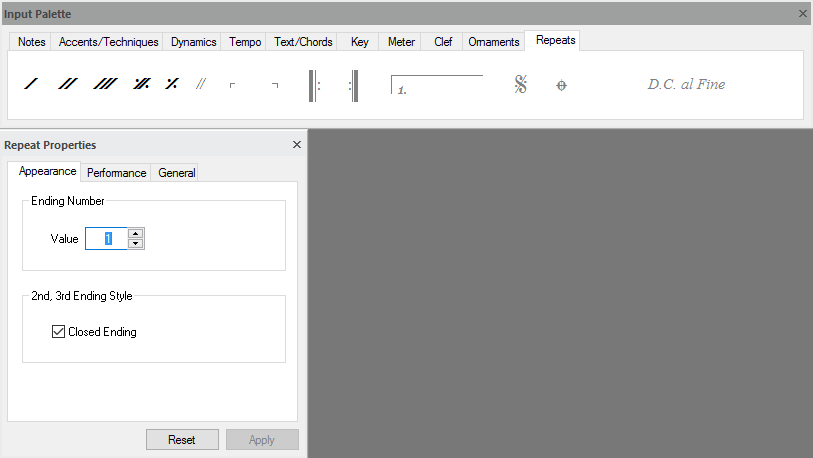 If you enter a first or second ending, you can edit the value in the repeat's properties. You can also edit the style of the ending. The line for the 2nd, 3rd,… ending, however, is never longer than one measure.
If you prefer text repeats, this is what your choice looks like:



Similar to the aforementioned Italian tempo labels, you have an input field and an arrow head. Your choice goes from "D.C." to "Fine". The repeat markings are bound to the timing of your score. And just because it's so beautiful, here we go again!
Let's wrap things up: Fast combined input
Having introduced you to all elements of the input palette, we will show you now how to write music really fast using a combined input method. You will be using your computer keyboard, your mouse and the virtual keyboard of the input palette. Ready? Let's roll!
So that's it from the input palette.
How did you like this three-part article?
What notation issues or musical topics would you like to read about?
We're looking forward to your comments!
https://www.fortenotation.com/en/wordpress/wp-content/uploads/2017/01/inputpalette_3.png
420
560
FORTE Team
https://www.fortenotation.com/en/wordpress/wp-content/uploads/2017/11/new_logo_forte-1.png
FORTE Team
2017-01-31 16:34:57
2017-07-04 11:36:25
The Powerful Input Palette - From Keys to Repeats and Back Again (Part 3)