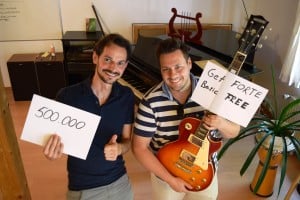 Celebrate 500.000 installs of FORTE with us
Dear fellow musician:
Thanks you to, it finally happened!
With your help, we hit 500.000 installs of FORTE. So it's time to celebrate!

Here's Our Gift to You: From Now until September 14 you can download FORTE Basic, a $24 value, for FREE.
No strings attached whatsoever.
No credit card required.
Simply Click Below to Download FORTE Basic and join the celebration.www.fortenotation.com/en/lp/giveaway/

(BTW: That's Alex (our software engineer) and Matthias (customer support) giving the thumbs up above.)
Just one more thing…
Can you think of any other musicians who'd love a free download?
While we try, we know we can't reach every musician who'd love a free copy.
That's why we're asking you to "Can You Please Pay it Forward?"
It's Simple:
If you love this FREE offer, make sure to share it on Facebook, Twitter, your Blog or anywhere you'd like!

We want to reach every musician we can, because we know how much it will benefit them in their artistic endeavors.

By far the easiest way to 'spread the word' is to click the link below and share the post on our FaceBook page—the more people who post, the more musicians FaceBook will allow us to reach! Click here to share the love now: https://www.facebook.com/FORTE.Notation

Thank you so much and have fun with FORTE Basic!

The FORTE Team

PS: The offer is only valid until Sept. 14. So take advantage of it now! www.fortenotation.com/en/lp/giveaway/
https://www.fortenotation.com/en/wordpress/wp-content/uploads/2015/08/Alex_Matthias_5_auto1-e1440067025743.jpg
200
300
FORTE Team
https://www.fortenotation.com/en/wordpress/wp-content/uploads/2017/11/new_logo_forte-1.png
FORTE Team
2015-08-20 13:00:08
2015-08-20 12:40:50
Now you can grab FORTE Basic (a $24 value) for FREE