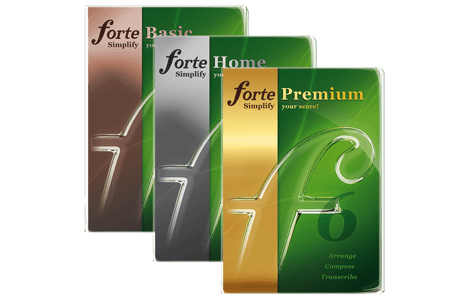 FORTE music notation software was created by musicians, for musicians. It is user-friendly, functional, and fun to use. It doesn't matter your skill level as a musician, the simplicity of FORTE makes it easy for any one to write music notes and create sheet music.
If you are just learning how to write music notation, FORTE is the best software for you. Begin by downloading the free version, this will allow you to get an idea of how to start scoring your own music. As soon as you install and start the program a welcome window appears, here you can open another score or start your own original composition. To start your own composition it is best to get help with the Score Wizard.
The Score Wizard will guide you step by step as you create your first composition.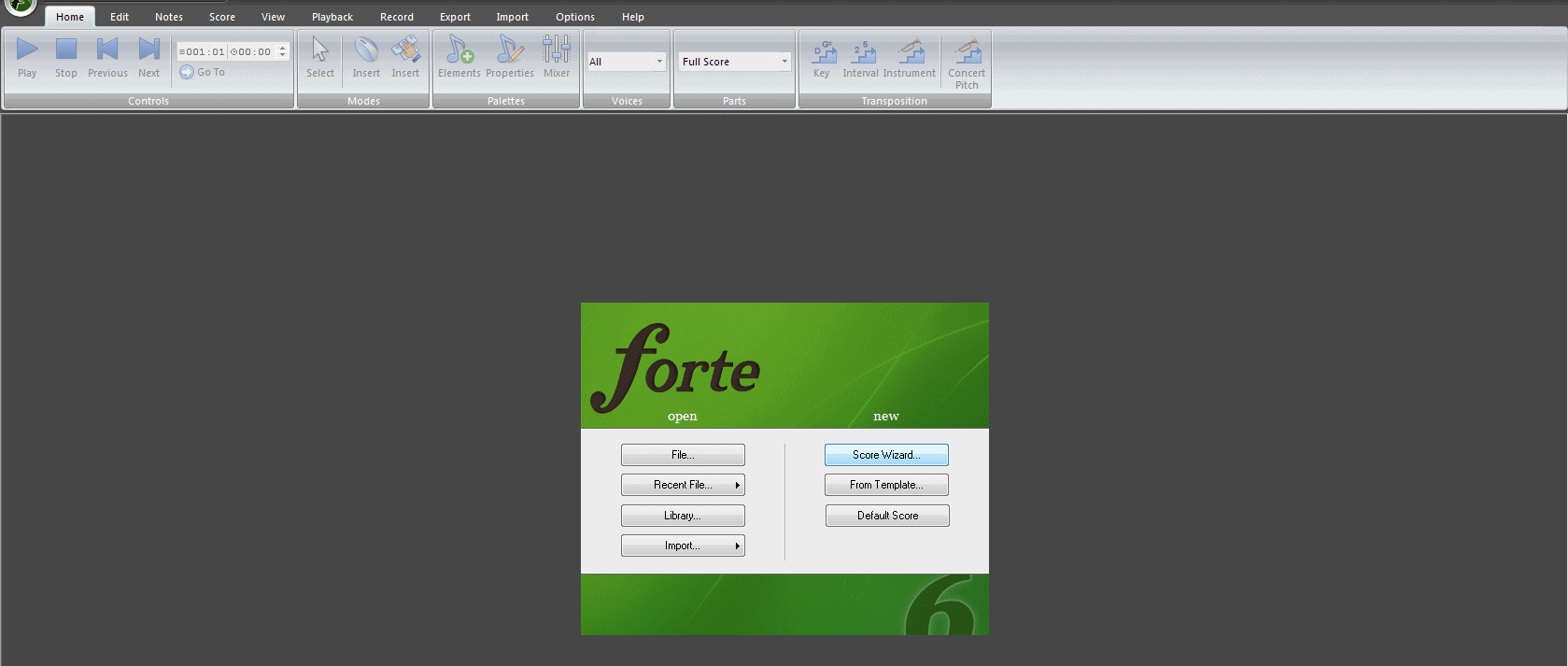 It allows you to create the title, to choose over 60 instruments, the tempo, time, key, and how many measures you want the piece to be. After this initial setup you will have the basic elements of your score ready to go. The best way to learn FORTE after this is to start adding and editing notes.
Under the Home tab on the user interface we will find the 3 modes most useful to us. Start by clicking the Insert tab and a menu will pop up for adding elements such as notes, rests, accidentals, slurs, and so on.
Adding these elements is a simple process of dragging with the mouse. That is essentially how easy it is to write music notes with FORTE, click and drag. If we add notes into the staff that we wish to get rid of we simply select the notes and remove them.
FORTE has an exclusive Music Ruler that allows you to place specific notes at a specific beat in the measure.
The Music Ruler makes the process of creating sheet music much easier, doing most of the work for you. FORTE will automatically add rests where necessary. The key point about this great music notation software is that it is perfect for beginners. Through trial and error you will quickly learn the process of writing music notes.
Once you have the basics of adding music notes to FORTE you can start expanding on your scoring abilities. Try opening a ready-made score to get an idea of new methods and sounds, or try scanning a piece of sheet music and changing things around. FORTE now has enhanced music scanning to almost perfectly add scanned sheet music in the program. Your first score can take a simple 10 minutes to create, and before you know it you will want to create more intricate pieces. The most recent version of this amazing music notation software is FORTE 6, with many new added features. Some of these features may not immediately make sense, but as you continue on your FORTE journey you will soon realize that this software has endless possibilities.
Writing music notes with FORTE is easy for people of all ages. This software is especially perfect for young musicians with an interest in composition. FORTE is a great addition for school curriculums, college students, and other budding musicians who wish to compose their own unique and original scores!
https://www.fortenotation.com/en/wordpress/wp-content/uploads/2014/12/FORTE6_3Verpackungen_webEN.png
300
470
FORTE Team
https://www.fortenotation.com/en/wordpress/wp-content/uploads/2017/11/new_logo_forte-1.png
FORTE Team
2014-12-28 13:40:33
2015-03-30 13:50:29
How To Write Music Notes With FORTE