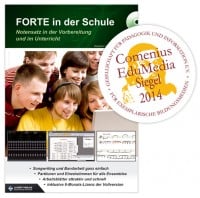 Our most recent book,'FORTE in der Schule', translated as 'FORTE in Schools', was recently awarded the Edumedia Signet. Voted by a jury of internationally known experts who specialize in the principles of teaching, "FORTE in Schools" was declared outstanding based on the books contents, didactics and quality of work.
'FORTE in Schools' would not have been possible without the underlying software of FORTE, so we see this award as a recognition for FORTE itself and for its easy to use interface which makes it ideal for classroom and daily use.

Over 1.000 people follow us now on Facebook!
We are proud to announce, that we now have over 1.000 Facebook Followers. Musicians worldwide conect with us and share their ideas. Thank you very much for your great support!
Please feel free to ask us if you have any questions concerning FORTE and its included features.
We are looking forward to your visit. Follow us on Facebook!

Your first steps with FORTE
If you are new to FORTE or if you have little experience with the program we invite you to visit our YouTube-Channel.

Do you use an older version of FORTE? It's time for a change!
Click here to upgrade to FORTE 5!

Interested in a trial version of FORTE 5?
Click here and start your score today!
Enjoy scoring!
Creating Beautiful Music One Score At A Time,
The Forte Team
https://www.fortenotation.com/en/wordpress/wp-content/uploads/2014/06/FORTELehrerheftAuszeichnung_weiss_web.jpg
198
200
FORTE Team
https://www.fortenotation.com/en/wordpress/wp-content/uploads/2017/11/new_logo_forte-1.png
FORTE Team
2014-06-26 14:34:15
2014-06-26 14:35:12
FORTE receives prestigious Edumedia Award