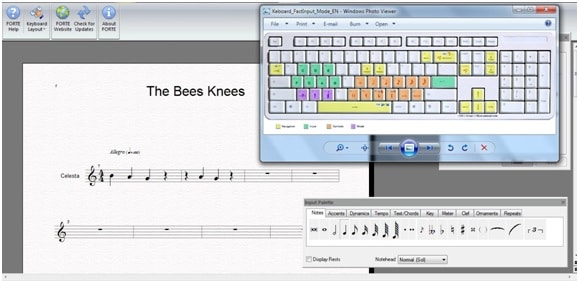 By Charlotte A. F. Farley
If you're anything like me, you write songs by the simple creative invention of sitting down at the piano (or with the guitar) and write inspired. You might even feel intimidated by all of the music composition software out on the market (I know I was.) Most programs seemed too complicated, too expensive, and too formal, as if they were created for a certain kind of musician and I wasn't it.
Forte, however, makes it easy for the budding songwriting and the professional composer alike to take accurate notes of their notes. Here's what makes Forte a prime choice for anybody interested in composing music with software:
User-friendly
The software is easy and intuitive: I learned the program in less than an hour, didn't need to use any of the training videos and started composing and I am not a technological person by any means whatsoever aside from uploading and downloading photos to Facebook and hooking up an LCD projector in the classroom.
Sizable shortcuts
Unlike other music software programs where you have to split a 4/4 measure into four quarter-note rests before you can write your music, Forte allows you to compose right away and the Autofill feature literally enters the rest(s), which cuts down on input time. Plus, the transposition functions make it easy to change your composition for different instruments.
You can even input notes without even having to input anything using keyboard shortcuts, which will open in a new window (cutting down on your input time). Other music software doesn't have this clean, easy screen like this, which can be accessed via the Help tab.
Playback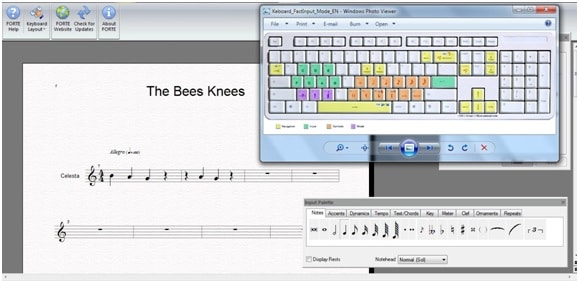 Have you ever read a recipe and decided that sounds delicious! I can't wait to make that for dinner? And then you prepare the dish for dinner only to be greatly disappointed? The same thing can happen when you're writing music: what looks good on the page doesn't always sound good to the ear. Welcome playback feature.
In general, the playback feature lets you play the music you've written so you can hear what you're writing. This playback feature is unique because you can either playback from the beginning of the piece or input which specific measure and precise beat you want the playback to start from. It's also easy to play back with the metronome, with or without lyrics—there are numerous options to hear a quality recording of what you write before you give it to your band, your students, or your choir.
Toolbars
The toolbars in Forte are laid out for seamless execution of key changes, time change, triplets, quintuplets, Vince-Guaraldi-like-madness-ouplets, and non-traditional notation. The rule function takes the guesswork of out placing rhythms, and it's exceptionally easy to put in articulations, dynamics, and tempo changes.
If you're looking for user-friendly, sophisticated music composition software with a clean interface, try Forte.
https://www.fortenotation.com/en/wordpress/wp-content/uploads/2014/04/forte2.jpg
281
579
FORTE Team
https://www.fortenotation.com/en/wordpress/wp-content/uploads/2017/11/new_logo_forte-1.png
FORTE Team
2014-04-13 14:45:49
2015-01-04 18:43:15
Music Composing Made Easy With Music Composition Software